A&M Carriers
We look through the eyes of our customers to meet and exceed their expectations by setting the standard. We build a reputation of consistency, reliability, and safety time after time with 100% accuracy and on time deliveries.
Our fleet of trucks are designed primarily to help move your product in a Regional Area throughout Kentucky, Indiana, Ohio, Michigan, Tennessee, Illinois, Iowa, North and South Carolina, Georgia, Missouri, Mississippi, Arkansas, and Ontario Canada.
With this centralized focus, we can offer the best rates available with unequaled Customer Service. In addition, we transport specialized equipment such as Bulk Containers and Medical Trailers. We specialize in Plant to Plant Warehouse Shuttle Service. We hire only CDL qualified and competent drivers and our staffing is premier in the industry.
To better the lives of our customers, our employees, and the communities we serve.
Infinit-i
We have on-line video training through Vertical Alliance Group called Infinit-i.
There is always room for improvement. Our driver training programs aim at enhancing every assignment. From route planning and assignment capacity, training can significantly reduce fuel consumption while increasing safety and overall productivity. Our safety team has over 20+ years experience in the field.
Drivers, click the link provided to go log into your digital classroom.
Looking back and
Moving forward
A&M Carriers is a family oriented transportation company thats focus is on a positive atmosphere. Every second of the day, a truck is delivering goods somewhere across the world. Our core values help lead the way in quality and safety.
2005
A&M opened for business with one truck and one flatbed
2007
Obtained a permanent on site truck maintenance shop and began specializing in the automotive transportation industry.
2010
Operational of 25 power units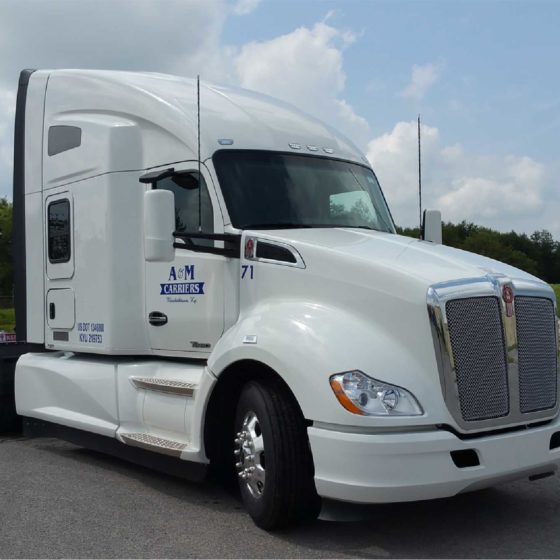 2012
Started buying new tractor trailers
2015
Fully operational 24/7 trucking and shuttle service
2016
Obtained full ELD compliance one year ahead of requirement
Our Quality Mission
It's in everything we do…
Dedication and Attention
Driving trucks is a profession – there is always room to improve and grow. Keeping up with technological developments, sharpening skills, and learning about that little extra that can have a big impact on your bottom line.
Innovative Solutions
We use globally standardized software applications with 24/7 systems support and security. With innovative Customer applications and an independent communication network we strive to maintain to be the top of the class.
Truck Reliability
We have certified maintenance on demand. Our shop is on site and mobile and knows the importance of truck uptime. We have a planned preventative maintenance program to help eliminate unplanned stops.



Driver Highlights

Here's what some of the best drivers in the industry are saying about A&M
Over 20 years trucking and I finally found an honest, family oriented company that appreciates the drivers. 7 1/2 years here and no complaints. I have always been treated fair, and appreciated, good, honest, Christian people. That's a few reasons I stay right here and call A&M the best company I have ever worked for.
Stanley Decker
- OTR Driver
I have been with A&M Carriers for 5 1/2 years. I have decided to stay here because it is a very family oriented company. You couldn't work for better people.
Jesse Lee
- Shuttle Driver
After almost ten years of service at A&M Carriers… They have always been there to resolve any issue or problems that may arise. My dispatcher is always there when I need him and is honest with me. I can always walk in my bosses office and ask questions, talk seriously or have a friendly chat. As an after thought, I have seen drivers leave A&M and I have seen them come back to A&M.
Geoff London
- Regional Driver



Driver Appreciation

In honor of Driver Appreciation month, Pilot Flying J surprised A&M Carriers professional driver, Don Travis with a dream truck makeover. Check out the reveal of his dream cab in this video.